What is AR Authoring Software?
Manufacturing processes are being transformed by analytics and automation. AR is now revolutionizing human processes by speeding up skill development and enabling assistance.
Augmented Reality is a composite vision that superimposes digital assets on top of a user's real-world experience. AR enables video, pictures, animation, music, text, and various other data sources to surround a user dynamically. AR systems frequently contain head tracking and gloves with haptic feedback that work in tandem with the head-mounted display.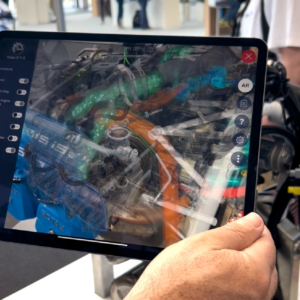 You've probably heard of Google Glass, Microsoft Hololens, or even augmented reality smartphone applications like Pokemon Go! that overlay a digital component within the mobile camera stream. While these examples are primarily consumer-focused, innovative manufacturers have recognized the potential of AR and are leading the pack in deploying the technology.
How manufacturers are using AR
AR can be used in manufacturing to improve efficiency and provide a safer work environment.
Businesses in various fields, such as construction, pharmaceuticals, and tourism, have begun experimenting  A). The COVID-19 pandemic has helped demonstrate AR's actual potential in multiple businesses.  According to the Wall Street Journal, (AR) has gone from being a neat experience to a necessity. AR-powered applications have made it possible for managers and professionals to interact and cooperate from afar with remote support.
For example, during the pandemic, the Porsche division of Volkswagen AG saw a rise in the use of AR glasses in US dealerships. Due to advancements in technology, mechanics may now use remote support from repair professionals to complete complicated repairs on high-end sports vehicles. Many other firms are also considering AR as a means of improving industrial processes.
What are AR authoring tools?
Let's imagine you want to create a training programme for your employees. Without the right tools, it can cost you thousands of dollars and resource hours, requiring specialist AR programming skills.
You may use AR creation tools to construct a digital course that can be published in various forms. An authoring tool enables you to design a course without writing any code using drag-and-drop and other user-friendly interfaces.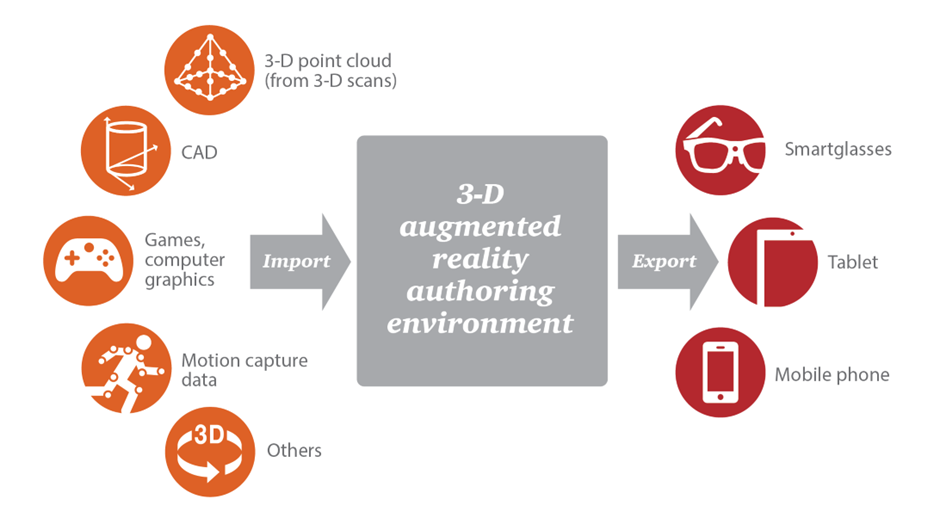 As the name suggests, digital twins are virtual copies of real-world components that are used in the manufacturing process. This digital representation incorporates data from a real-world source as an improved computer model. Using a digital twin, you can see precisely how a physical component functions and interacts with everything else. 
Digital twinning for AR creates compounded value. Using AR technology, data from IoT sensors combined with the digital twin provides real-time information to on-site personnel to alert them of any possible difficulties. Data may be superimposed on the actual environment, allowing for greater visualization by displaying data on a table or other flat surface while the user is using their mobile phone.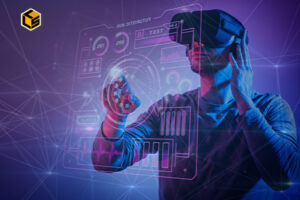 Source: https://4experience.co/digital-twin-in-ar-vr/
Smart Glasses can overlay information on top of what the user is already viewing. On-site personnel, such as those operating on oil rigs, might utilize a device such as the Microsoft HoloLens or Oculus Rift with a digital twin to obtain real-time information while maintaining and repairing.
Due to a lack of expertise or human resources, equipment installation might be time-consuming and complicated. With an augmented reality tool, field workers may quickly and easily install equipment by receiving remote support right in front of their eyes.
ar software for industry enables users to share physical spaces through smartphones, tablets, or laptops. An expert can provide remote support to the fieldworker, pause the video stream and add annotations to objects. Everything provided during the session is saved and stored for future reference.
Experts do not need to physically be on-site to verify that work is completed accurately
AR can be used on any compatible device using our augmented reality apps or augmented reality sdk
Workers see detailed instructions in their line of sight without using manuals or trying to follow a phone conversation blindly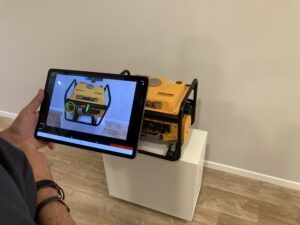 frontline.io is a set of software solutions created specifically to address the most pressing operational issues of manufacturing companies. Our augmented reality technology can produce full digital twins with interactive 3D procedures, which reduce the footprint of field operations within days. Companies can provide remote virtual support without traditional bottlenecks and increase staff efficiencies by up to 60%.
Contact frontline.io today for a demo of how digital twinning and remote support through AR can enhance your efficiency and productivity.