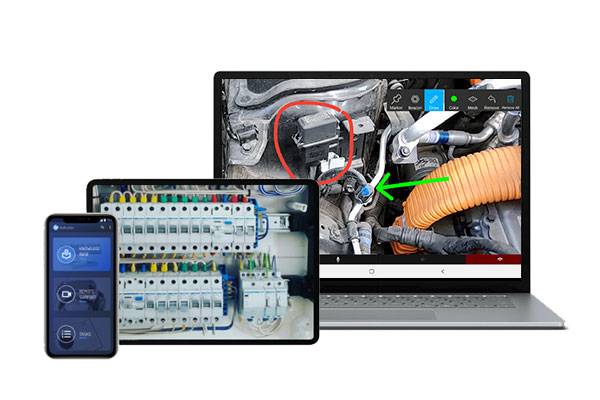 The unique advantages of smartphones over other devices are that your team is already carrying them and the UI is intuitive to them. Using the Frontline app, your service technicians and can easily view step-by-step intructions comfortably through a UI that leverages the data and mobility of their smartphones. The Frontline app works seemlessly with Android and iOS mobile devices.
Frontline is naturally available on the web at Frontline.io and affords many additional authoring functionality with the apporpriate permissions.
Technicians who encounter unfamiliar problems can, with one click open an AR session with a subject matter expert back at headquarters using Frontline AR. The expert and the technician can share photos, video clips and annotations in realtime leading to a resolution quickly and effectively.
With Covid19 travel restrictions in place, training sales, service and support teams on new devices is extremely challenging. Using Frontline Procedure and our highly detailed 3D models, their teams overcame the inability to travel by creating their own procedures and by mimicking machine time training using Frontline VR Training.
Extend productive years of senior employees
Key service managers are able to continue to make valuable contributions to the their companies by digitally quarterbacking their newer service technicians on Frontline AR's platform.